As a coach, or any service-based business owner, your website's homepage serves as the virtual front door to your business, making a lasting first impression on potential clients. It's crucial to craft a compelling homepage that reflects your unique personality and sets you apart from the competition. Even if you're just starting as a small business, having a website is essential for establishing credibility, expanding your reach, and building trust with your target audience.
In this blog post, we'll explore how to create an engaging homepage for your coaching business and recommend powerful tools to enhance your content creation process.
1. Be Personal: Why Presenting Yourself Matters
In the coaching industry, establishing a personal connection with your potential clients is crucial. People seek coaching services not only for practical guidance but also for the trust and rapport they can build with their coach.
By presenting yourself on the homepage, you create an immediate sense of familiarity and approachability, setting the stage for a strong client-coach relationship. When visitors land on your homepage, they want to know the person behind the business.
That's why it's essential to have your image prominently displayed in the first section of your website. By placing your image in front, you immediately establish a personal connection with visitors.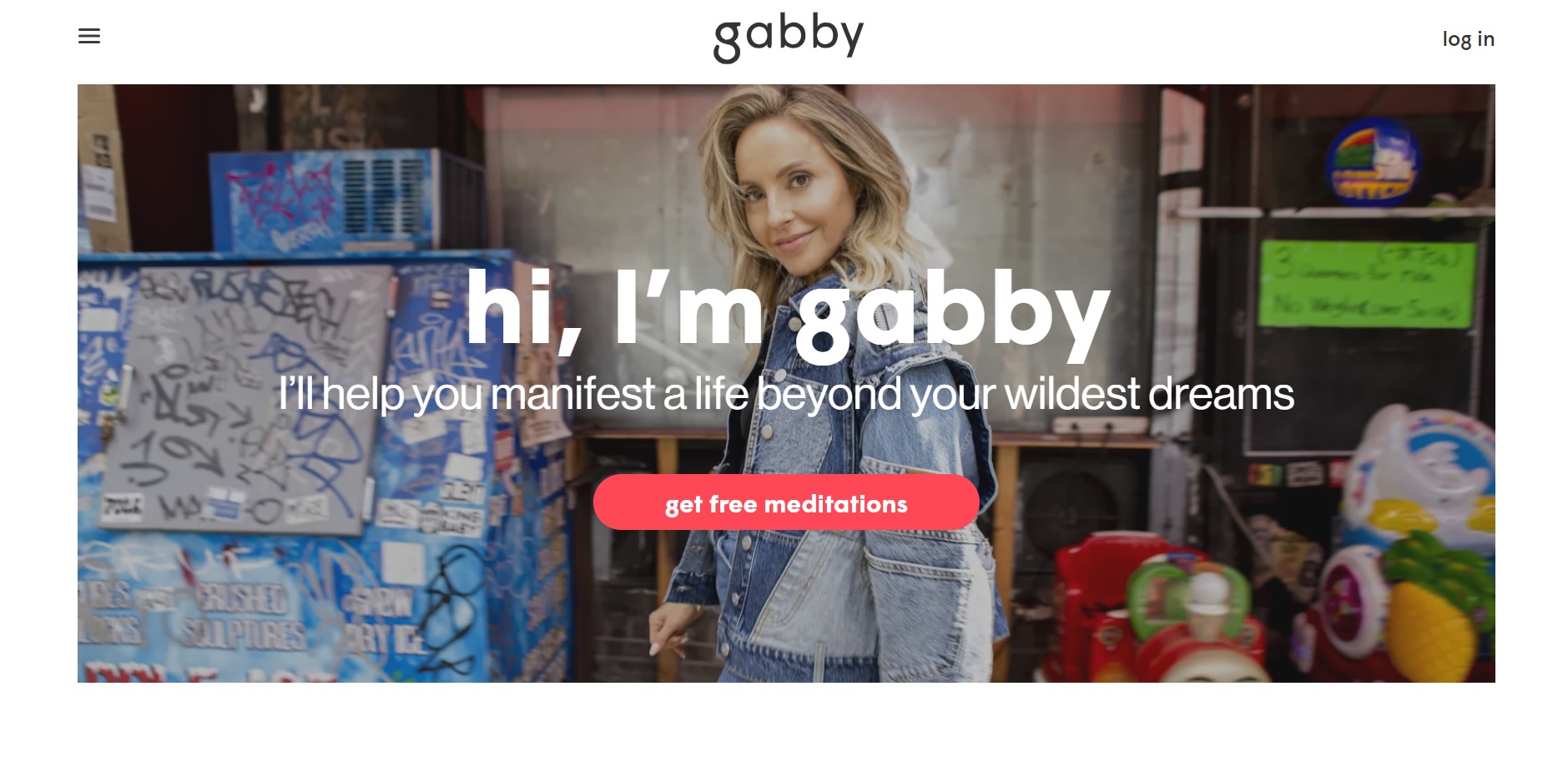 Gabby Bernstein, a spiritual coach, stands out with her unique image to show us how she transformed past trauma into love and strength, offering a powerful promise: "I'll help you manifest a life beyond your wildest dreams" .
How to Choose the Right Image for Your Website?
When selecting an image for your homepage, aim to capture the essence of your coaching style while radiating positivity and confidence. Here are a few tips to help you choose the best image:
1. Smile:
A genuine smile can be incredibly impactful. It conveys warmth, approachability, and a sense of joy. An open-mouthed smile radiates more positivity and excitement, while a closed mouth may not showcase the same level of confidence.
2. Eye Contact:
Opt for an image where you make direct eye contact with the viewer. Eye contact creates a connection and establishes trust. It shows that you are present, attentive, and ready to engage with your clients.
3. Authenticity:
It's important to consider the professionalism and authenticity that align with your specific coaching niche.
For instance, if you offer business coaching or executive training, consider opting for more formal attire in the image. Dressing professionally in business attire communicates a sense of expertise, authority, and credibility in the corporate world.
On the other hand, if you specialize in spiritual coaching or mindfulness practices, the image should reflect a different tone. In this case, choose clothing and body posture that exudes a gentle, relaxed, and serene vibe.
2. Setting Yourself Apart: Embrace Your Unique Approach
To stand out from other coaching businesses, it's important to clearly express your unique approach in a concise and captivating way, like a memorable tagline. Feel free to experiment with various examples to see the response of your potential clients and determine which one is most effective.
It's essential to communicate how you can assist your clients using the following formula:
"I (do this) for (whom)"
or
"You'll (achieve something) by (doing this)"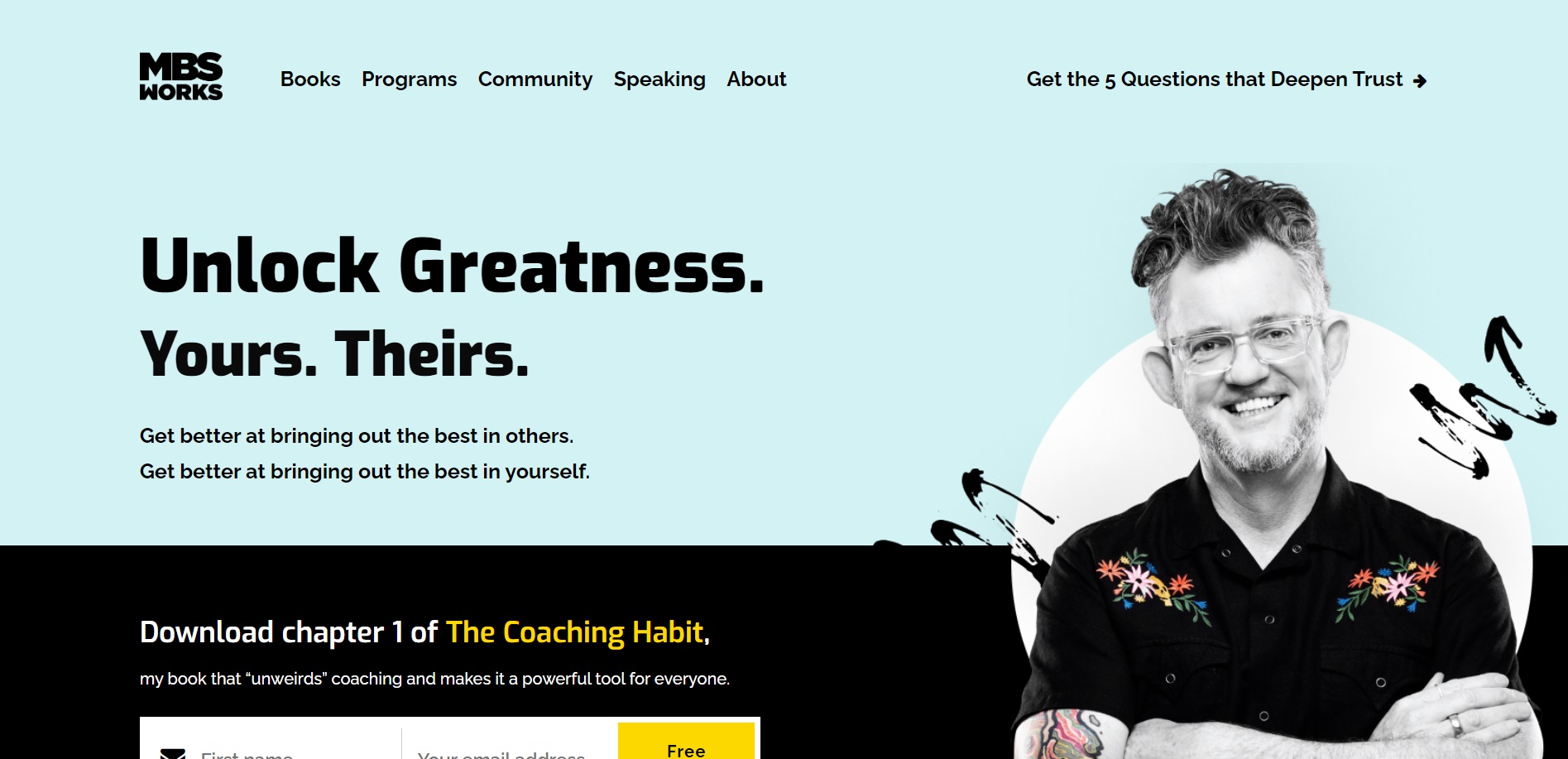 The tagline from Michael Bungay Stanier's website conveys a powerful message of personal and interpersonal growth. It emphasizes the idea of unlocking one's own greatness and also helping others realize their potential. The tagline suggests a focus on personal development, self-improvement, and the ability to inspire and uplift others.
How to make good taglines?
There are several other tools available that can help you assess the effectiveness of your headline. Here are a few alternatives you can consider:
CoSchedule offers a comprehensive Headline Analyzer tool that provides insights into the quality and effectiveness of your headlines. It evaluates factors such as word balance, headline length, emotional impact, and more to help you optimize your titles for maximum engagement.

2. Sharethrough Headline Analyzer:
Sharethrough's Headline Analyzer focuses on analyzing the emotional and linguistic components of your headlines. It assesses factors like headline structure, word choice, and emotional appeal to help you create captivating and engaging titles.
3. Advanced Marketing Institute's Emotional Marketing Value Headline Analyzer
This tool from Advanced Marketing Institute measures the emotional impact of your headlines. It evaluates how well your headlines connect with readers' emotions, helping you create titles that resonate and capture attention.
3. Your offers: Finding Your Niche and Reaping the Benefits
In this section, you need to highlight how you can assist your client on their journey and outline the services and offerings you provide as coaches.
It's essential to identify your niche and understand the benefits it offers to your clients. Let's compare two coaches with different niches to illustrate this point.
On one side, we have a business coach that is specialized for the growth of small businesses, and on the other side there is also a business coach who is a leadership and team development expert.
While first coach focuses on empowering small business owners to grow their ventures, second one specializes in developing strong leaders and cohesive teams within corporate settings.
By understanding your niche, you can tailor your offerings and provide targeted solutions to meet the specific needs of your clients. This specialization not only attracts individuals who resonate with your niche but also allows you to provide a more focused and impactful coaching experience.
4. Kind words : Boosting Trust and Credibility on homepage
When potential clients land on your coaching website, one of the most influential elements that can sway their decision is the presence of testimonials.
Testimonials play a significant role in showcasing the positive impact your coaching has had on clients' lives. They provide concrete evidence of your expertise, effectiveness, and the value you bring.
To gather testimonials, you should actively ask clients who have had positive experiences and achieved their goals to share their feedback. Providing a simple feedback form or sending a personalized request asking for their testimonial can encourage clients to share their thoughts.
Let the success stories of others speak for the value and effectiveness of your coaching services.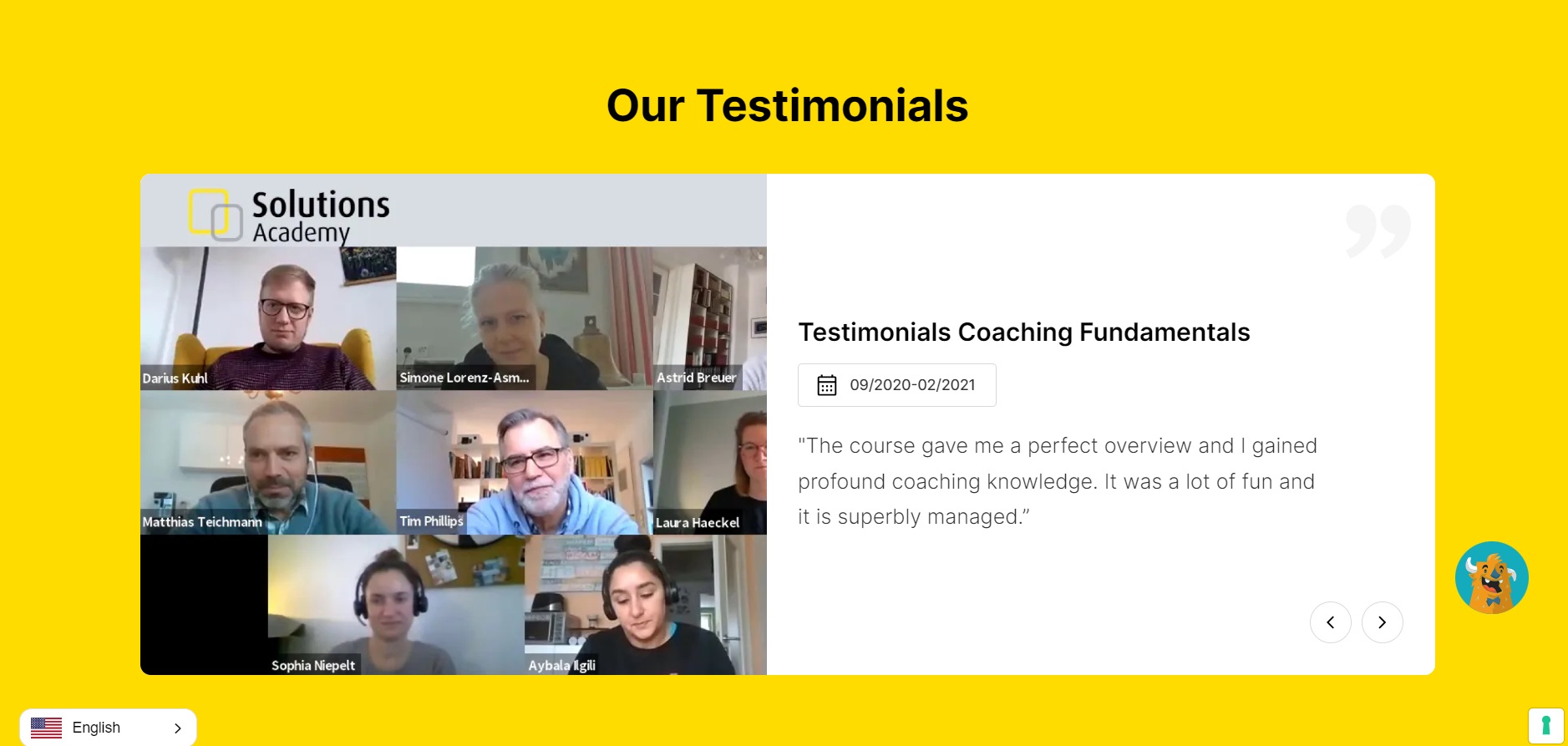 5. Clear Call-to-Action buttons
A clear CTA acts as a guiding beacon for your visitors, directing them towards the desired action you want them to take.
Whether it's scheduling a consultation, signing up for a newsletter or book a call, a well-defined CTA communicates the next step. It removes any confusion or guesswork, ensuring visitors understand how to engage with your coaching services.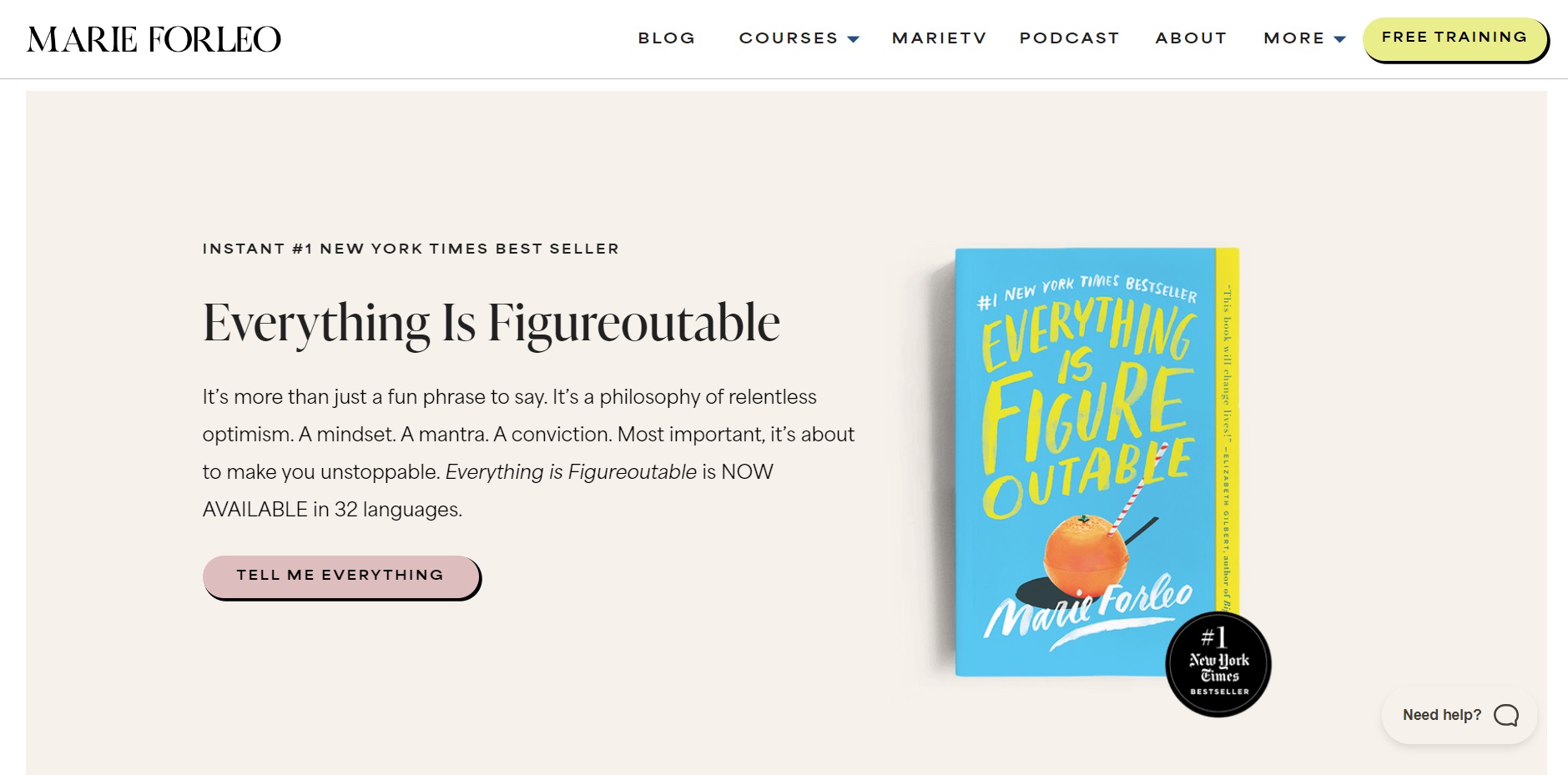 To create a clear CTA, it's essential to use concise and action-oriented language. Avoid common phrases and instead use direct statements that clearly communicate the benefit of the action.
For example, instead of "Learn More" use "Transform Your Life Now" or "Start Your Journey to Success." Or as on Marie Forleo's website, instead of "Buy Now" she adds the "Tell me everything" button to arouse interest in her book.
By aligning the CTA with the visitor's desires and aspirations, you create a sense of urgency and motivation to take action.
ng services.
Beyond the Basics of Website Design
While a well-designed layout and compelling content are fundamental, going the extra mile can make a significant difference in capturing your visitors' attention and nurturing long-term relationships.
Adding pop-ups with attractive freebies or exclusive content captures visitors' attention and encourages them to join your email list. You can add interactive quizzes and assessments personalize experiences and engage visitors.
Using live chat and messenger allows faster real-time communication, building trust and resolving queries instantly. Whit a blog or resource hub you show expertise and provide ongoing value to the audience.
Your Next Step to a Professional Coaching Website
When it comes to building a coaching website, it's natural to feel overwhelmed by the numerous options available.
However, from my personal experience, I highly recommend using the WordPress website platform, specifically the Divi theme. With its best SEO platform, user-friendly interface, and extensive range of plugins, WordPress is the TOP CHOICE for coaches looking to establish a professional online presence.
As you embark on the journey of building your coaching website, you have two main options to consider.
The first option is to conduct thorough research and hire web designers who specialize in creating coaching websites. This approach ensures a tailored and custom-built website that aligns perfectly with your brand and vision. So if you'd rather focus on your coaching business without the added responsibility of learning web design skills, I also offer bespoke coaching website creation services.
Alternatively, you can explore the option of purchasing a coaching website template. This route offers a cost-effective and efficient solution, as it provides pre-designed website layouts specifically crafted for coaching businesses. With a template, you can save time and still achieve a professional and visually appealing website.
Many templates can be easily customized to match your branding elements and showcase your unique coaching services.
If you prefer to take a hands-on approach and build your own coaching website, I offer a templates suitable for various coaching services.
If you're interested in exploring the possibilities further or have any questions, I invite you to book a free call with me. Together, we can discuss your requirements, address any concerns, and determine the best approach to create a coaching website that truly represents your unique coaching business.
Did you like this blog post?
Pin it to Pinterest! 👇🏻